We talk to people almost every day, who have questions about website security. Website security remains a constant headline in tech news. The world is moving fast. At Web Design by Knight, we are moving faster.
Here are some answers to some of the common questions we hear about website security.
Do I Really Need Website Security?
Yes! All websites are under constant threat of being hacked. And so, at Web Design by Knight, we are constantly working to prevent it. We know "protecting" your website is so much easier and less expensive than "recovering" your website. Website cleanups cost in two ways. Recovering a website is time consuming and expensive. The loss business can also be substantial.
Why Me?
Why not? It's true that the security breaches reported in the news involve large corporations. But all websites are vulnerable to hacks. The number of websites hacked every day is astronomical. At Web Design by Knight we are constantly updating all elements of your site, to make sure you are protected with the most current updates.
Generally, hackers want to redirect your website traffic to their own money-making sites. They also want to break into your website and use it to send spam email to hundreds of email addresses every day, until your server shuts down. And sometimes the hack is for the purpose of delivering malware to your site.
Who Is Responsible For Website Security?
At Web Design By Knight, we manage website security for our clients. But your website may interact with other sites and agencies through the internet, for which we have no control. Think of us like a security system for your car. Website security can protect your website and all that's in it. But we have no control over the many threats you may encounter on the interstate. In addition to the security Web Design by Knight provides, there are some things you can do to keep your site safe.
Install A Secure Socket Layer (SSL) Certificate
If you haven't already installed an SSL certificate, take steps to do so immediately. An SSL certificate will keep hackers from being able to see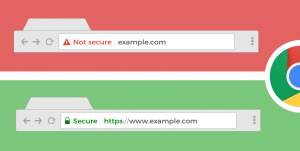 personal information that is transferred from your website to another. Browsers are marking non SSL sites as "nonsecure," sending people away from your website.
This is particularly important for business websites with a shopping cart. For example, when a customer buys widgets from your website, SSL protects the information on the transaction and keeps it safe while being sent from your shopping cart to a third party, like PayPal, or your payment gateway.
Have a Firewall Installed in Your Website Software
You probably are protected by a server hosted firewall, but you MUST HAVE a firewall protecting your website software – especially WordPress.
We are continually monitoring and updating our website firewalls against the most current threats.
Our Firewall Protection
Our Web Design by Knight firewall will provides a barrier to help better protect from malicious requests to your website. While we cannot guarantee it will absolutely stop every existing security threat, it will stop most hackers, bots and malware from gaining access to your website.
Know All Your Website Login Information
Have credentials (login and passwords) for: Domain name company, website server hosting, website administration, and email. Also know who has access to this information.
Strong Usernames and Passwords For Strong Security
Don't make it easy for hackers by using a password associated with something in your everyday life. Change your passwords often! Quarterly is a good habit.
Check Your Website for Hacks
Be mindful of suspicious activity. If you suspect your website has been hacked, contact us immediately.
Things to Remember
It is no longer "if" your website gets hacked, but when. How fast will you be able to recover?
Friends don't let friends maintain their website. 
It isn't only about creating a website. More importantly it's about maintaining your site. Is this person qualified to perform updates and changes? Where will they be if you need to recover your site from a hack?
As always, if you have questions about security, feel free to contact us any time. At Web Design by Knight, we are committed to offering you the best website management and security available.